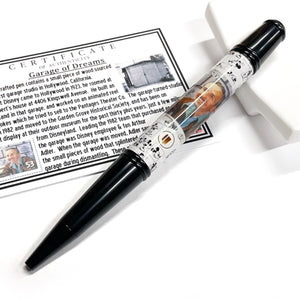 Made using a piece of wood from Walt Disney's first Los Angeles studio, The Garage Of Dreams.
Comes with a certificate of authenticity. Pixie Dust not included
Embedded Artifact Pens feature a slice of wood or fabric that is adhered to an image and cast in resin. This method is used when the material isn't big enough to make a full pen from, but is too valuable to consider waste. It's a way to share the love and present an awesome story for a fraction of the cost of a full wood pen.