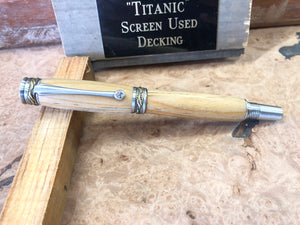 This limited edition collectors item is hand crafted using reclaimed decking from the set of Titanic. Each pen is engraved with its number in the collection out of 150, and comes in a keepsake box. The clip features a Swarovski Crystal, symbolizing the infamous iceberg that sunk the Titanic.
The Iceberg edition is available only as a rollerball
Please allow 3-6 weeks for delivery. All Hollywood pens are made-to-order.
All pens include a top-of-the-line refill. Custom ink color requests can be made via email. All Bow & Harrow pens are refillable. Please contact us for custom requests and engravings.