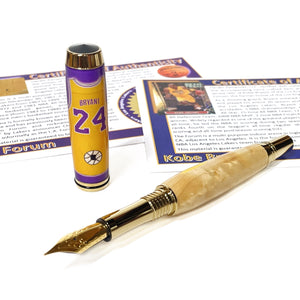 Kobe Tribute Fountain Pen - Forum Game Floor Edition
This stunning writing instrument is the ultimate blend of sports history and fine craftsmanship. Bring home your very own piece of Kobe's legacy today
Features:
Cap with Authentic Kobe Bryant Jersey Swatch: The cap is adorned with a genuine game-worn swatch of Kobe Bryant's jersey, immortalizing the basketball legend's undeniable mark on the sport.
Body Crafted from LA Forum Lakers Flooring: The body of this exquisite pen is fashioned from recycled maple basketball flooring sourced from the historic Forum in Los Angeles. This revered wood carries the echoes of countless legendary basketball games played by our beloved Lakers.
Limited Edition Collector's Item: Each pen is meticulously handcrafted, making it a truly unique collector's item. Limited in production, this pen is destined to be treasured by basketball aficionados and writing enthusiasts alike. This is one of our rare Double Certificate pens that has a certificate of authenticity for both the cap and the body
All Bow & Harrow pens are refillable. Fountain pens come with an ink converter and a pre-filled black ink cartridge. Rollerball pens come with a "Schmidt 5888" refill. Additional ink can be purchased through our ink page. Pens are shipped in a Bow & Harrow gift box. Please allow up to 2 weeks for delivery of in-stock items.
**Note:** This pen is a genuine piece of sports history, combining the legacy of Kobe Bryant with the iconic Forum. Limited quantities are available, so secure yours today and own a piece of basketball history.