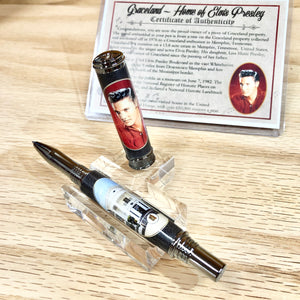 More coming in the new year! Shown on the Civilian pen hardware but also available on the Clooney and any other capped pen
Embedded Artifact Pens feature a slice of wood or fabric that is adhered to an image and cast in resin. This method is used when the material isn't big enough to make a full pen from, but is too valuable to consider waste. It's a way to share the love and present an awesome story for a fraction of the cost of a full wood pen.
All Bow & Harrow pens are refillable and come standard with black ink. This rollerball pen takes "Schmidt 5888" which can be purchased through our ink page. Pens are shipped in a Bow & Harrow gift box. Please allow up to 2 weeks for delivery.

We invite you to contact us for ink requests, other custom requests or if you have any questions.