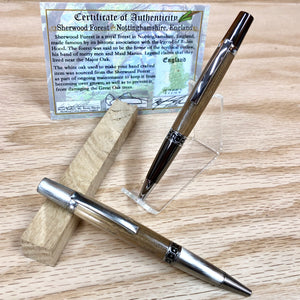 Made using oak from Sherwood Forest in Nottinghamshire, England. The forest is most famous for its association with the legend of Robin Hood
All Bow & Harrow pens are refillable and come standard with black ink. This ballpoint pen takes a Parker Style refill and comes with the "Schmidt EasyFlow 9000" which can be purchased through our ink page. Pens are shipped in a Bow & Harrow gift box. Please allow up to 2 weeks for delivery of in-stock items.
We invite you to contact us for ink requests, other custom requests or if you have any questions.